---
2022 was characterized by several challenges that significantly impacted global markets. The continuing impact of the COVID pandemic, global supply chains disruptions, the war in Ukraine, and rising inflation have had a significant impact on economies around the world. Looking ahead, many economies are expected to enter technical recessions over the coming quarters, suggesting that the hard times will continue for some time. 
In light of the gloomier outlook, consumers have begun to change their behavior and adapt their priorities to respond to reduced purchasing power. This means that previous assumptions about consumers might no longer be relevant, and brands and retailers will need to reconsider how to capture the opportunities in this global market and build resilience for the future. But there are some ways to prepare for the rocky road ahead. 
Consumers adapt to a 'cost of living' squeeze
With higher food and energy prices pushing up inflation to rates not seen for forty years, consumers' purchasing power was squeezed significantly during 2022. This is reflected in consumer confidence levels which have fallen sharply to below levels seen during the height of the global pandemic.
Falling confidence has translated into lower retail sales volume and values as 43% of consumers opt to cancel or delay purchases due to the current economic environment.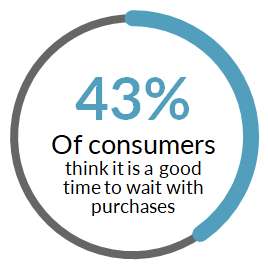 Meanwhile, the cautiousness of consumers can also be seen in elevated household savings rates which have not returned to pre-pandemic levels, suggesting that consumers are saving as a precaution in the face of growing global market uncertainty. 
But historically, consumers have been known to show remarkable resilience to inflation and economic turmoil. In Argentina, for example, consumers have adopted a suite of tactics and workarounds to navigate the high levels of inflation that have plagued the country for five years. Current levels of inflation in developed economies are much lower than those experienced by Argentines, giving cause for optimism that consumers will be able to weather this current storm. Additionally, consumer confidence can recover very quickly when conditions improve, so it's essential to monitor consumer sentiment closely for signs of a shift.
Different impacts across global markets
Although the events of 2022 have affected every region of the world, the impacts will play out very differently across countries and categories. While growth has slowed everywhere, some regions will be more resilient to the downturn and are expected to recover more quickly. For example, developed markets are predicted to see lower GDP growth than their emerging counterparts, suggesting that emerging markets could present opportunities for brands ready to capitalize on them.
There are also many variables that will impact consumer confidence and purchasing power in different regions. Already, the northern winter has thrown some curve balls, with extreme cold experienced in the US during late December, while Europe has seen a record breaking "heatwave" in early January 2023. The weather will be just one factor that determines whether energy bills lead to the worst-case scenarios for consumers' cost of living. Visibility of how consumers are responding in both developed and emerging markets will be particularly important in the year ahead. 
Some consumer priorities haven't changed
Although consumers have already adapted their behavior to the new conditions, there are some priorities that remain unchanged. Despite the current climate, sustainability remains an important value for both affluent and cost-conscious consumers.  

This is only set to continue as Generation Z's purchasing power grows, as this generation is much more inclined to prioritize sustainability in their purchasing decisions. 
Opportunities within uncertainty
Despite the tougher outlook for 2023, there will be opportunities for those that are ready to grasp them when they do arise. Here are three ways brands and retailers can prepare themselves and build resilience. 
Know your consumer (and how they are changing)

. Consumer behavior is changing rapidly in the face of economic uncertainty. But although they might cut back on certain spending items, consumers still believe it's important to indulge themselves, even if they might be more careful about selecting these indulgences. Knowing what consumers are still willing to spend on (and why) will be essential to capturing a share of their reduced disposable income. 

Adapt your approach for regions and emerging markets.

 Economies will be impacted differently by the disruptive forces of inflation. Insight into how consumers are responding across markets will be essential to tapping into growth opportunities. With developed countries expected to see lower GDP growth than emerging markets, brands could explore entering emerging markets, or adjust their marketing spend to focus more on the developing markets they already sell to. There may also be different levels of product uptake across categories and regions, so it will pay to understand where there are opportunities to increase market penetration of certain products. 

Embrace the growing focus on sustainability

. Demand for sustainable products and services has persisted, despite the pressure on disposable incomes, showing how consumers prioritize sustainability. And this focus is expected to rise steadily over the years ahead. Brands that take steps now to align themselves with consumers' changing views will be positioned to benefit strongly when consumer confidence bounces back. Sustainability is now 'table-stakes' for brands.
Although there are likely tough times ahead for brands and retailers, the current global market challenges will eventually ease. In the meantime, those who can use data and insight to uncover the opportunities within the challenge will win.